Getting Started
The Search screen is capable of executing simple and complex queries. We have designed and developed our search capabilities to specifically search Federal Opportunities.
In the next section, you will learn how to use the Search (GovSearch) page.
Search Panel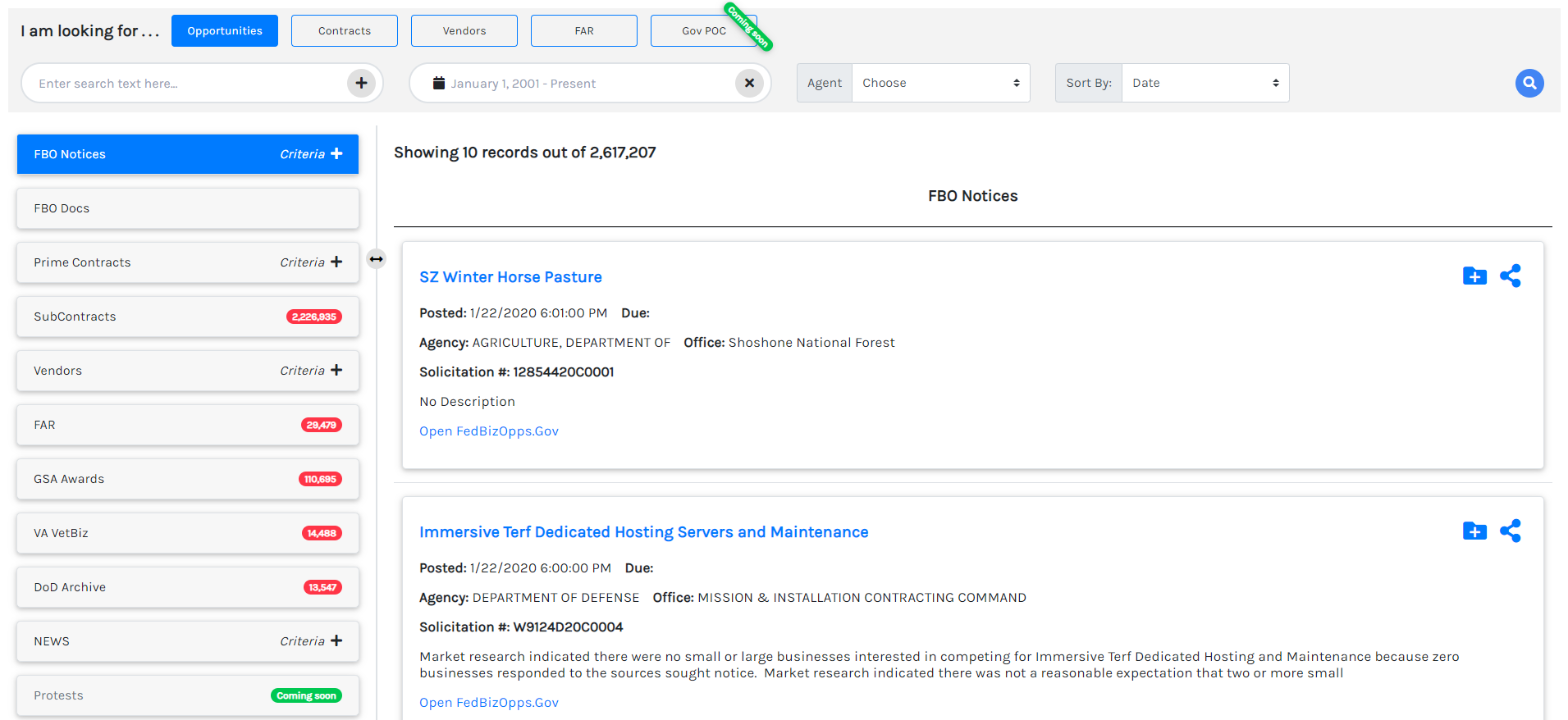 This is the main search panel where the user will spend most of their time to search and identify opportunities, contracts, and vendor information from our database. It is initially filtered to recently posted opportunities.
Search Setting

When using the search bar, users can filter result based on certain settings. These includes:
Opportunities: Opens with the most recently posted opportunities on FBO at the top in search results followed by FBO documents.

Contracts: Opens Prime Contracts at the top followed by Sub-Contracts and Vendors respectively.

Vendors: Allows users to search vendor profiles based on company name, socioeconomic status, NAICS code, PSC code, business type, state, country, etc. Opens vendors at the top followed by prime contracts and sub-contracts.

FAR: Allows the users to search all FAR references and opens FAR at the top.
On the right side, the user can sort results by date (default), relevance, ascending order (A-Z) and descending order (Z-A).

Advanced Keyword Search
When using the Advanced Keyword Search there are guidelines for an array of search queries like specific phrases or wording. Below are helpful guidelines for the GovSearch's advanced keyword search.
The exact phrase ("search term"): To do an exact-match search, write your search term or query inside the double quote.

Example: To search for human trafficking as a phrase rather than two different terms, use "human trafficking".

OR: Search for X or Y. This will return results related to X or Y, or both. Note: the pipe (|) operator can also be used in place of "OR".

Examples: jobs OR gates / jobs | gates

AND: Search for X and Y. This will return only results related to both X and Y.

Example: jobs AND gets

+"search term": Force an exact-match search on a single word or phrase.

Example: +"1111"

Wildcards (*): It can be used to run on individual terms, using ? to replace a single character and * to replace zero or more characters.

Example: qu?ck bro*

Note: It is not an ideal way to search as it uses an enormous amount of memory and performs very badly. Allowing a wildcard at the beginning of a word (eg "*ing") is particularly heavy, because all terms in the index need to be examined, just in case they match.

Boolean Operator: By default, all terms are optional, as long as one term matches. A search for foo bar baz will find any document that contains one or more of foo or bar or baz. The preferred operators are + (this term must be present) and - (this term must not be present). All other terms are optional.

For example, this query:

quick brown +fox -news

states that:

The familiar operators AND, OR and NOT are supported. However, the effects of these operators can be more complicated than is obvious at first glance. NOT takes precedence over AND, which takes precedence over OR. While the + and - only affect the term to the right of the operator, AND and OR can affect the terms to the left and right.

Grouping: Multiple terms or clauses can be grouped together with parentheses, to form sub-queries.

Example: (quick OR brown) and fox
Advertisement/Notice Banner
Premium members have the ability to search without any ads allowing users to surf without any distractions.